Monday, February 1st, 2010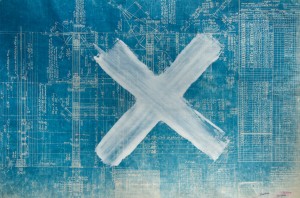 Here is the print I have donated to the Art for Haiti NYC charity auction for Doctors Without Borders.
http://www.artforhaitinyc.com/site/
Nick De Pirro
White Strike (Levering and Garrigues)
2009
24″ x 36″
Monotype on Eary 19th-Century Blueprint
This was one of the prints that was made during the Bantam Mechanics session a few months back. The substrate is an early 20th Century blueprint for the Hoboken dockyards. It is part of the series (and really the only current work to speak of) dealing with redaction and destruction of documents.