Wednesday, March 12th, 2014
Update:
Our Kickstarter was an epic fail, but we moved forward with a minimal print shop on the 4th floor of Neumann Leathers. We have one intaglio press and the gear to support etching, drypoint, block printing, and monotype. Contact us for details.
Help us invite artists to create a series of fine-art print editions in the processes of stone lithography, etching, drypoint, and monotype.
Project Studios in Hoboken, New Jersey, our company that provides studio space and creative support for individual artists and collectives, musicians, and creative companies and non-profits in the greater New York City area wants to re-open our print shop. Many of the artists we work with have expressed interest in having access to a traditional printmaking studio where they can create print editions or just get very creative with a medium that they don't normally work with on a day-to-day basis.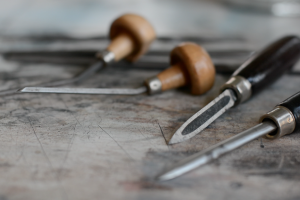 The first step is to make our existing fine-art printmaking studio better serve the needs of local artists, by adding the stone lithography process to our capabilities. This will require the purchase of a lithography press, lithography stones, and the handling equipment required to support the medium. A good lithography press is a fairly large capital investment for a studio, and the stones themselves are quite rare and are difficult to obtain. Fortunately, we have located a private print shop that is selling exactly what we need. Our shop already has the tools for etching, engraving, drypoint, monotype, and wood cut printing including an intaglio press.
The second part of the equation is giving selected area artists free access to the print studio for six months. During that time the artists may work on anything they like, but they will also be required to produce sets of prints that will be distributed as rewards to backers of this project. The studio will provide some special found paper with historical relevance that artists may choose to work with including old paper garment patterns from the leather factory where the studio is housed, and antique blueprints from the now-vanished dockyards of Hoboken.
You can help make this happen by contributing to this project, and you will be rewarded with original artwork from artists that we invite to the studio. There is also an option to take a short printmaking class.
Pledge your support and receive original artwork as a thank-you gift.
The final celebration of the successful project will be an exhibition and opening reception party at Proto Gallery, a local contemporary art gallery in Hoboken. All artists participating in the project may exhibit prints generated during the duration of their free residencies.