Wednesday, January 5th, 2011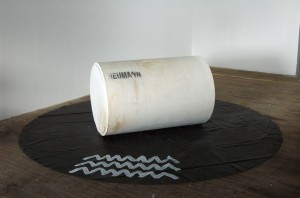 This is the sculpture formerly known as Plaster Neumann now retitled as Plaster Neumann: Cursed Object. I have been interested in making a cursed or haunted object for quite some time, but I could never figure it out. I thought I had a chair that would right itself late at night each time I violently kicked it over, but it failed to reset more often than not, so there must have been some normal explanation, unfortunately.
Ater the chair was debunked, and the proposal for an exhibition of haunted objects stalled, I added the concept to that very long list in my head where I keep this kind of stuff. Maybe now it is time to revisit this idea, who knows.
The Plaster Neumann has a pretty strange history, so here goes. The first detail is that the core of the object is an artifact from the Neumann Leather factory in Hoboken. The object was then fixed to a jigger machine/mold to create the cylinder that encases it. The casing is mostly hydrocal with a float layer of plaster on the face. It is pretty tough and can be rolled around. The sculpture was present for the unfortunate event that you can read about in Epic Fail when somebody killed himself about 10 feet away from the Plaster Neumann. After that, the Neumann was packed up and moved to storage on the ground floor in another studio that I was renting for about a year. Almost as soon as it was moved down there, the space flooded from a cracked water main. After that the object got moved back up to my 3rd floor space and sat quietly until last month. I needed better documentation of Plaster Neumann, so I got it back into the shop to seal it and patch up the cracks and manage the water damage. I left town for the holidays, and upon my return, water again, this time a few hundred gallons poured directly on the sculpture the Wednesday before New Years Day. Nobody was in the building and the water destroyed artwork and antiques on 4 floors of the building. Once again, the Plaster Neumann looks like hell, which at this point I have decided must be the default state. Yesterday, once I had it set up for new photos, water started leaking from above right onto my camera bag.
The solution I am attempting is to use a sort of counter curse to quell the uneasy sculpture. I figure that if I can name the sculpture's curse, I can contain the curse. If the object is dry or draws water to it, I can provide water with the hieroglyph for water and hopefully reduce the damage to the studio.