New Art Studios for Rent in Hoboken
December 2016

We have a few spaces that will be available for December 2016. Contact us immediately for details.
4th Floor Share: 10 ft. x 14ft. (suite: 24 ft. x 45 ft. 1080 sq. ft.) $350.00
3rd Floor Private: 500 sq. ft. $1200.00
3rd Floor Private: 350 sq. ft. $600.00
January 2016
With the closing of the Art Factory in Paterson, NJ, we once again see development squeezing the habitat of our artists and creatives. The R. Neumann and Co. leather factory in Hoboken, where Project Studios is located, is under new ownership, and this time the city of Hoboken City Council has voted on a development plan that includes explicit requirements to maintain the creative studios and shop space in the existing buildings on the property. Project Studios has been working closely with building ownership to provide a vision of what art, music, and gallery spaces can look like in a future renovation of Neumann Leathers.
Neumann Leathers will continue to be a core creative zone for the foreseeable future in Hoboken. Contact us with any questions about studio availability. We have many projects in the works that can accommodate artists and musicians displaced by the Art Factory closing.
Recently, with PROTO Gallery's MEGALODON pop-up group exhibition, a new 6000 sq. ft. space has been added to the roster of active creative spaces in at R. Neumann. A series of exhibitions and events are currently being scheduled for 2016, beginning with a group show of Neumann Leathers tenants. Stay tuned to PROTO Gallery and Project Studios social media for details and announcements.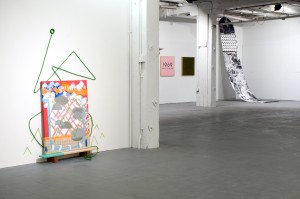 January 2015
We have new studio availability for the new year! We have cut down one of our large spaces to create three semi-private spaces on the 5th floor of R. Neumann and Co. on Newark Street. We also have one available space on the 4th floor of 300 Observer Highway, and we have opened up our mini printmaking shop as well.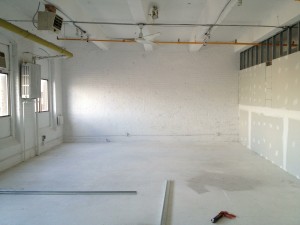 4th Floor Share: 20 ft. x 14ft. (suite: 24 ft. x 45 ft. 1080 sq. ft.) $525.00
5th Floor Share: 20 ft. x 17 ft. (irregular) (suite: 25 ft. x 45 ft. 1125 sq. ft.) $600.00
5th Floor Share: 20 ft. x 30 ft. (irregular) (suite: 25 ft. x 45 ft. 600 sq. ft.) $900.00
July 2013
The Project Studios Spring Expansion is underway. We will be offering the following studios starting June 1, 2013. Contact us immediately if you are interested in any of the following options. All of these studios are either on the 3rd or 4th floors of Neumann Leathers in Hoboken. We give them silly code names to keep track of them.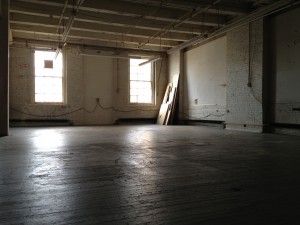 4th Floor Share: 20 ft. x 14ft. (suite: 24 ft. x 45 ft. 1080 sq. ft.) 575.00
4th Floor Share: 10 ft. x 14ft. (suite: 24 ft. x 45 ft. 1080 sq. ft.) 300.00
The Dana: 20 ft. x 18 ft. 360 sq. ft. $700.00
The Danielle: 36 ft. x. 25 ft. 900 sq. ft. $1400.00
Proto South: 14.5 ft. x 12 ft. 175 sq. ft. $450.00
The Egg Shell: 36.5 ft. x 23.5 ft. 850 sq. ft. $1500.00
The Small Shop: 19 ft. x 45 ft. 855 sq. ft. $1600.00
The Master: 24 ft. x 45 ft. 1080 sq. ft. $1600.00
The Standard: 19.5 ft. x 18 ft. 350 sq. ft. $550.00
The Standard II: 19.5 ft. x 18 ft. 350 sq. ft. $550.00
The Old Nino: 350 sq. ft. $575.00
The Old Kevin: 15 ft. x 36 ft. 540 sq. ft. $950.00
The Sneak: 15.5 ft. x 17. 5 ft. 275 sq. ft. $500.00
The Little Beth: 10.5 ft. x 22.5 ft. 235 sq. ft. $425.00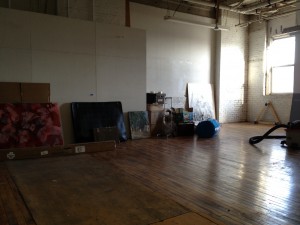 The prices are based not only on square footage alone.  Windows, electrical power, type of door, or other factors influence the price. A freight elevator and passenger elevator are located in very close proximity to these studios. They are located on the 4th floor of Neumann Leathers in Hoboken, NJ. The location in the building is considered by us to be premium as it is right in the heart of the art and music section of the building, and has the convenience of the passenger elevator. All studios have locking steel doors and are private. All utilities are included. The spaces named shop have significant electrical service in place including 22o v for tools and equipment. The shop spaces are also appropriate for music.
October 2012 Update:
We have built two new beautiful studios on the Willow Avenue side of Neumann Leathers. These studios were made available for October 1, 2012, and are no longer available. Enjoy the studios!
Studio #1: 505 sq. ft., double door: $850
Studio #2: 350 sq. ft. Single door: $600
If you want a studio, call me maybe.
Update: All of our new studios in the far east wing are now leased to artists.
Congratulations to our new tenants as they begin to make use of their new spaces.
Willow Avenue Studios:
We are happy to announce the completion of five new art studio spaces at the Neumann Leathers factory building in Hoboken, New Jersey. The new spaces are for fine artists, designers, and other creative professionals. We have one space remaining, and another currently occupied space will become available October 1, 2011.
20′ x 16′ @ 300 sq. ft.  two windows. $450.00 per month.
12′ x 20′ 6″ @ 250 sq. ft. one window, with ability to install a second  $375.00.
20′ x 13′ @ 270 sq. ft.  one window, with ability to install a second  $425.00
20′ x 13′ @ 270 sq. ft. one window, with ability to install a second  $425.00
20′ x 18′ @ 370 sq. ft.  one window, with ability to install a second  $550.00
About the Studios:

The studios are located on the 3rd floor of the Newman Leather Building; a few blocks of the PATH train station in Hoboken and a few blocks from the Holland Tunnel by car.
The available space is a section of a larger space that is divided into individual studios on the 3rd Floor of the Neumann Building. The studio is secured with a large steel door. All walls are sheetrock with a brick wall and window. The ceiling height for all studio spaces is 10 ft. Floors are wood. An operational sprinkler system is in place, and the enclosing space in the warehouse has an exterior fire escape and internal stairwell nearby. A very large freight elevator and shared bathroom are in close proximity to the big room. The bathroom is regularly cleaned by a professional cleaning service. The building is open 24 hours, and a security guard is on duty from about 4 PM until 8 AM.
Art studios on the 3rd floor are monitored by automatic cameras for added security. Internet is available via a shared wifi connection. The neighborhood is very safe. There are plenty of good places to eat and hang out within a few minutes walk from the building. Parking for tenants is in a lot on the property, which is enclosed by a fence. There is no fee for tenant parking.
Spaces are intended for designers, painters, and sculptors. High voltage power is available, but additional fees for installation and heavy energy use will apply. All studios have florescent that can be turned on and off.
If a studio is rented by more than one individual, an additional fee will apply.
Heat, electrical, and trash service is included.
Tags: art, De Pirro, depirro, design, factory, highway, Hoboken, kevin, kevin lakin, lakin, lease, leather, Leathers, Neumann, newman, newmann, nick depirro, observer, observer highway, painting, photography, Project Studios, rent, sculpture, studio, studios, warehouse, willow, willow ave.