Friday, October 16th, 2009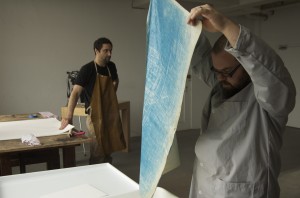 How does one begin to enter the American car culture? In grade school, we drew flaming hot-rod Mustangs, Army tanks, and fast fighter jets. Now, as we enter this culture in earnest, with real desire, we follow that same path. Printmaking allows us to once again work together, and begin to define a path for this project. A literal blueprint is used, for example, in some of these prints, that is then altered or even destroyed by a artist's mark. The blueprint is a plan, and the mark is the effort to take the pedestrian or commercial antique object and convert it to artwork. In doing this, yes, the antique is destroyed, but a new object is born. This is a model for what we will do with our Bantam Roadster in many ways. The new object, in our case, respects the original albeit antique automobile, but we do not fear the damage of provenance that will likely occur.
Our prints are marks of redaction and burnouts on historical documents and plain paper.
These prints illustrate the simplest reduction of what the overall long-term work will be.
http://www.bantammechanics.com/precursor/
De Pirro + Williams