Project Studios is launching a new ceramics workspace at Neumann Leathers in Hoboken at 66 Willow Ave., right next to PROTO Gallery.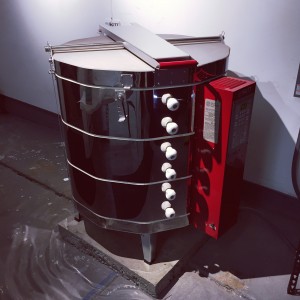 The new studio features a 1000 sq. ft. floor plan with areas for table-working and storage, as well as a small showroom space. Primarily, the studio is intended for artists of all experience levels to use on a monthly-membership basis. Classes in wheel throwing and hand-building will be added to the program soon. Fee-based firing for non-members is also available.
Equipment:
Skutt KM1227PK Kiln
Shelving and Storage
Large Work Tables
Slab Table
Custom-welded Amaco-Brent Extruder
60 Gallon Air Compressor
2 Brent B Potter's Wheels
2 Brent CXC Potter's Wheels
Slab Roller (Arriving June)
Bluebird Pug Mill
Walker Pug Mixer (Arriving May)
Banding Wheels (Arriving May)
Slop Sink
Various Plaster Bats
Large Assortment of Amaco Plastic Bats
Contact Project Studios via this site or on our Facebook page for more information.